PORTABLE PETROL ENGINE GENERATOR 3.5KvA 2800W 7HP 4 STROKE BS3500
Regular price
£229.00 GBP
Regular price
£349.00 GBP
Sale price
£229.00 GBP
Unit price
per
Sale
Sold out
DESCRIPTION
Buy A Portable Petrol Engine Generator to Backup Power Solution Specific to Your Needs
 The superior copper wound motor in the BISON BS3500 petrol generator strengthens it and provides better and more consistent performance. There are two standard UK plug sockets and DC 12V clips for charging a car battery, etc. The 7HP 4 stroke OHV engine provides plenty of power, producing up to 2800 Watts (3.5KvA), which is sufficient for most devices. The generator has a 15-litre fuel tank that will keep it running for about 13 hours per re-fill, so it can be filled in the morning and left to run all day. Other features include an automatic voltage regulator, air cooling, a surge protector, and rubber engine mounts, contributing to a lower-than-normal noise level of 66dB.
Powerful 7hp Engine
7HP 4 STROKE OHV ENGINE.
 Superior Copper Wound Motor Is Stronger and Performs Much Better.
Multiple Plug Sockets
2 X AC UK PLUG SOCKETS
Easy To Start
EASY PULL START ENGINE.
Low Noise
WITH RUBBER ENGINE MOUNTS
Feature Packed
With SURGE PROTECTOR, AIR COOLING, VOLT METER, AND AUTOMATIC VOLTAGE REGULATOR
15 Litres Tank
FEATURES
Easy pull start.
Superior copper wound motor is stronger and gives much better performance.
Full spare parts backup.
Surge and low oil protector.
Air cooling.
2 x AC UK plug sockets
Volt meter.
Rubber engine mounts.
2800 Watts of power.
3.5KvA
15 Litre tank.
7HP 4 stroke OHV engine.
Automatic voltage regulator.
Mounted in strong frame to protect it.
SPECIFICATIONS
Engine: Single-Cylinder, 4-Stroke, Air-Cooled, OHV
Engine Power: 7HP
Engine size: 210cc
Max. Power: 2800W/2.8kW/2.8KVA
Continuous Power: 2500W/2.5kW
Current: 12V/8.3A
Rated Voltage: 220V-240V
Starting System: Pull start
Fuel Tank Size: 15 Litres
Oil Tank Size: 0.6 Litres
Oil Type: 10W30 or 10W40
Continuous Operating Time: 13h
Noise Level: 66dB
Net Weight: 38KG
Gross Weight: 43KG
Size (LxWxH)(mm) 605x470435
Insulation grade: F
Phase 1/3
WELL PACKED
TO PROTECT YOUR GENERATOR DURING SHIPPING

FAQ

Question:
Does it produce a pure sine wave or modified sine wave?

Answer:
It produce a modified sine wave

Share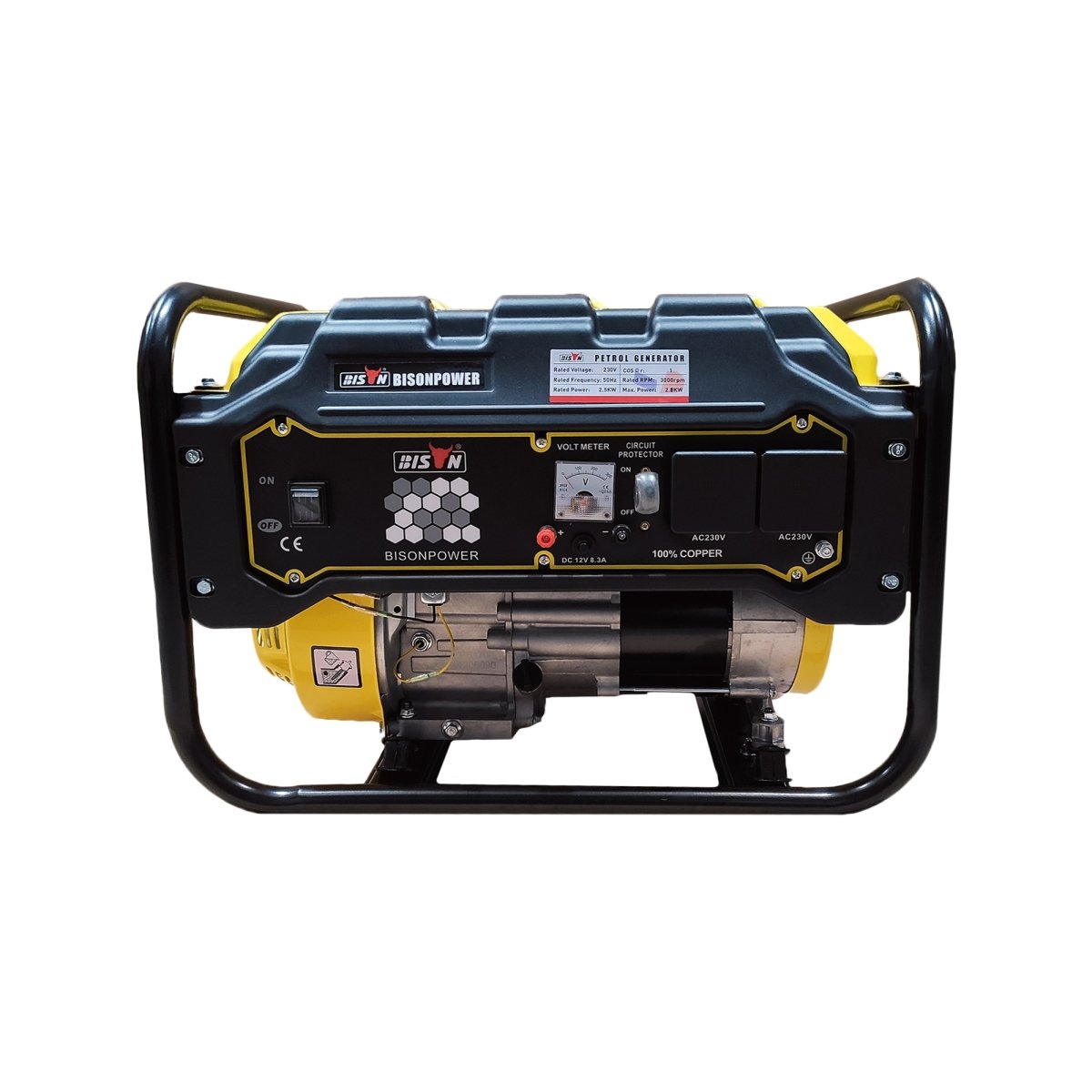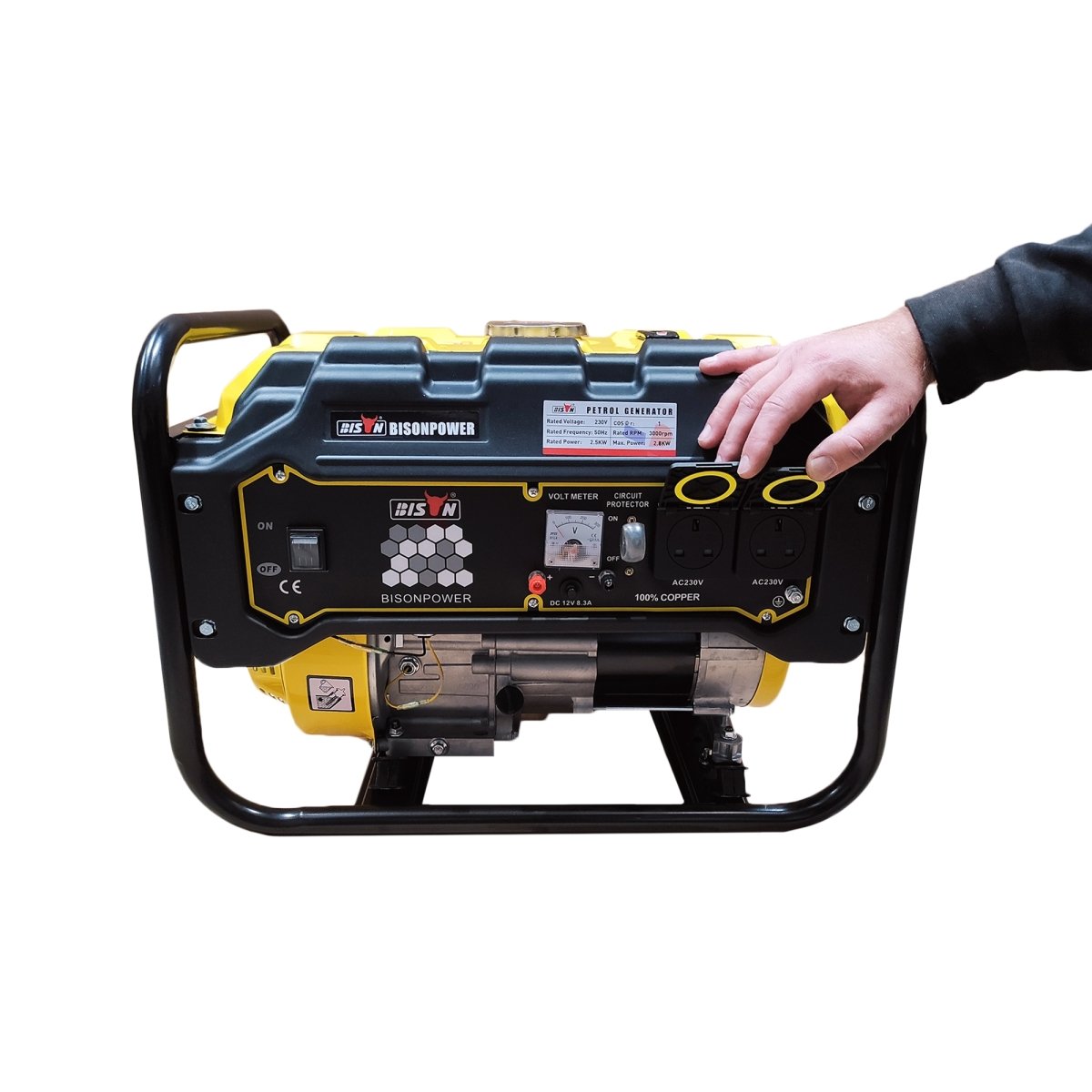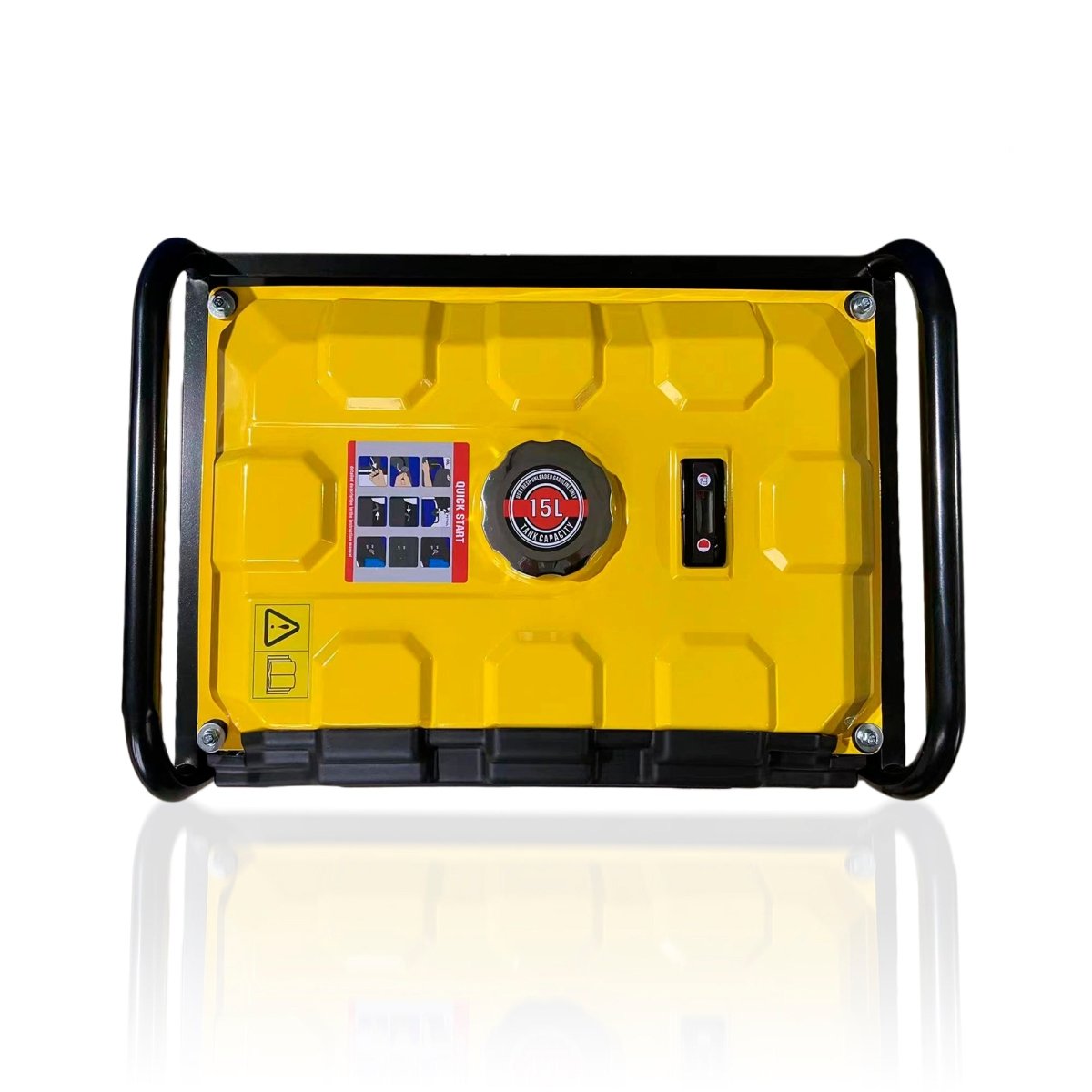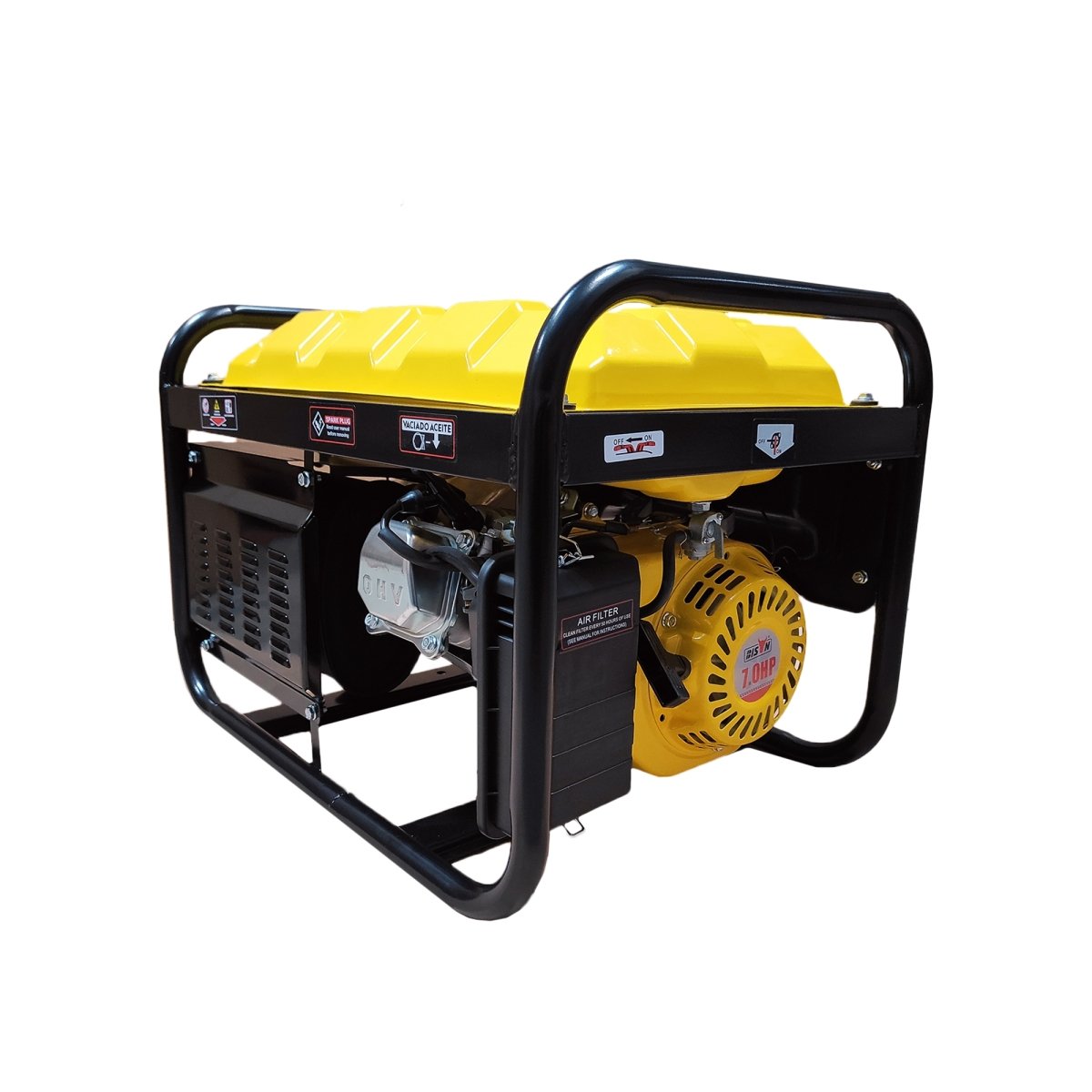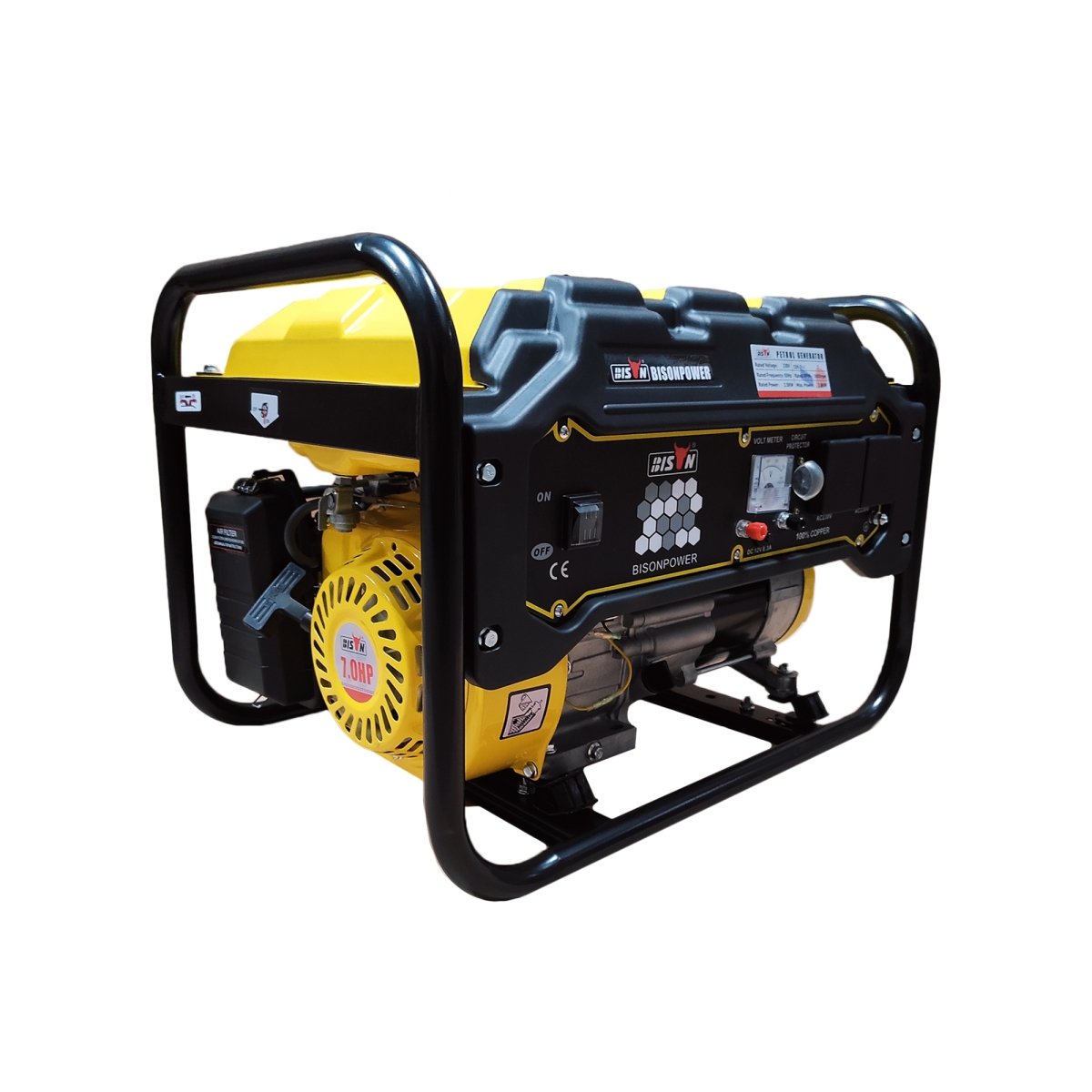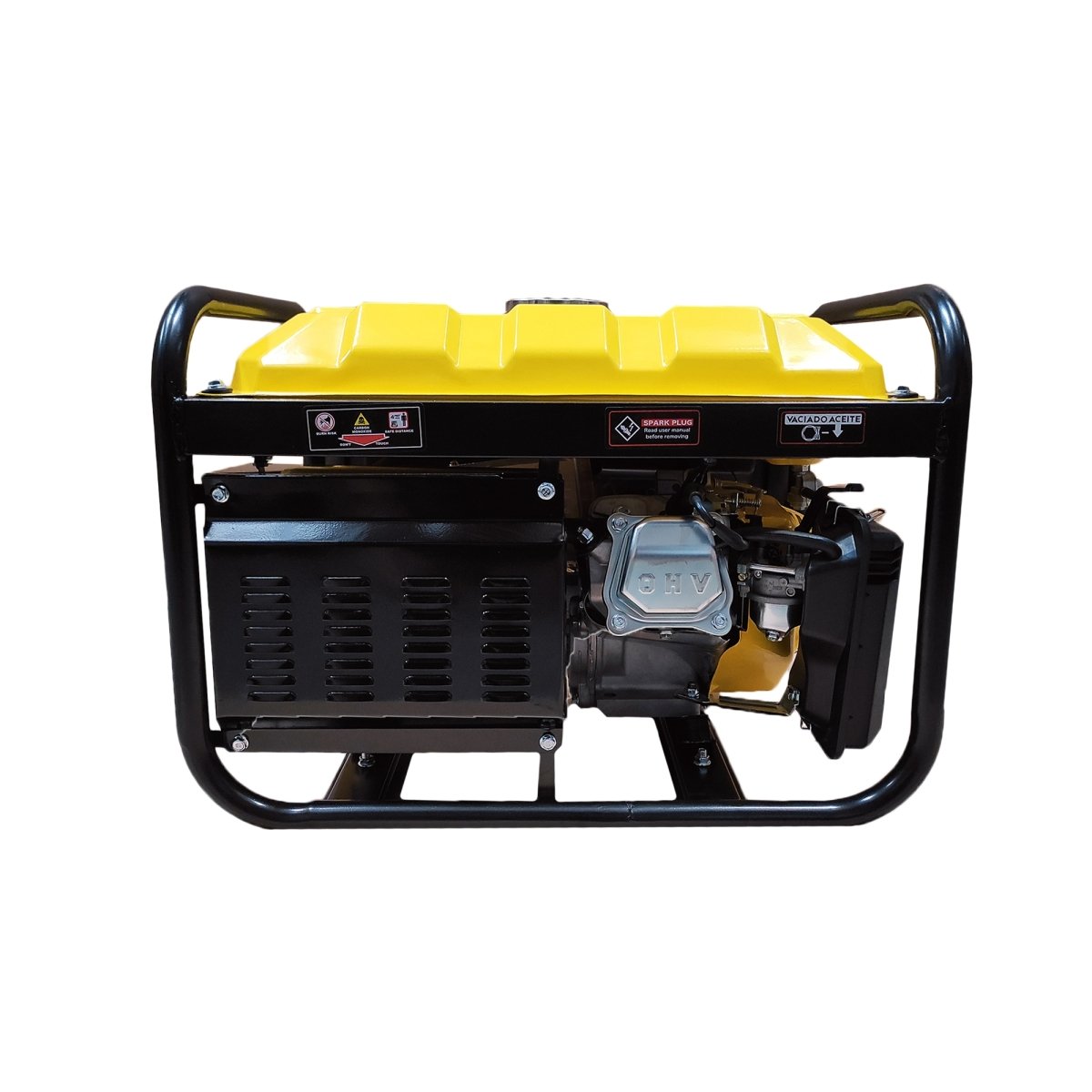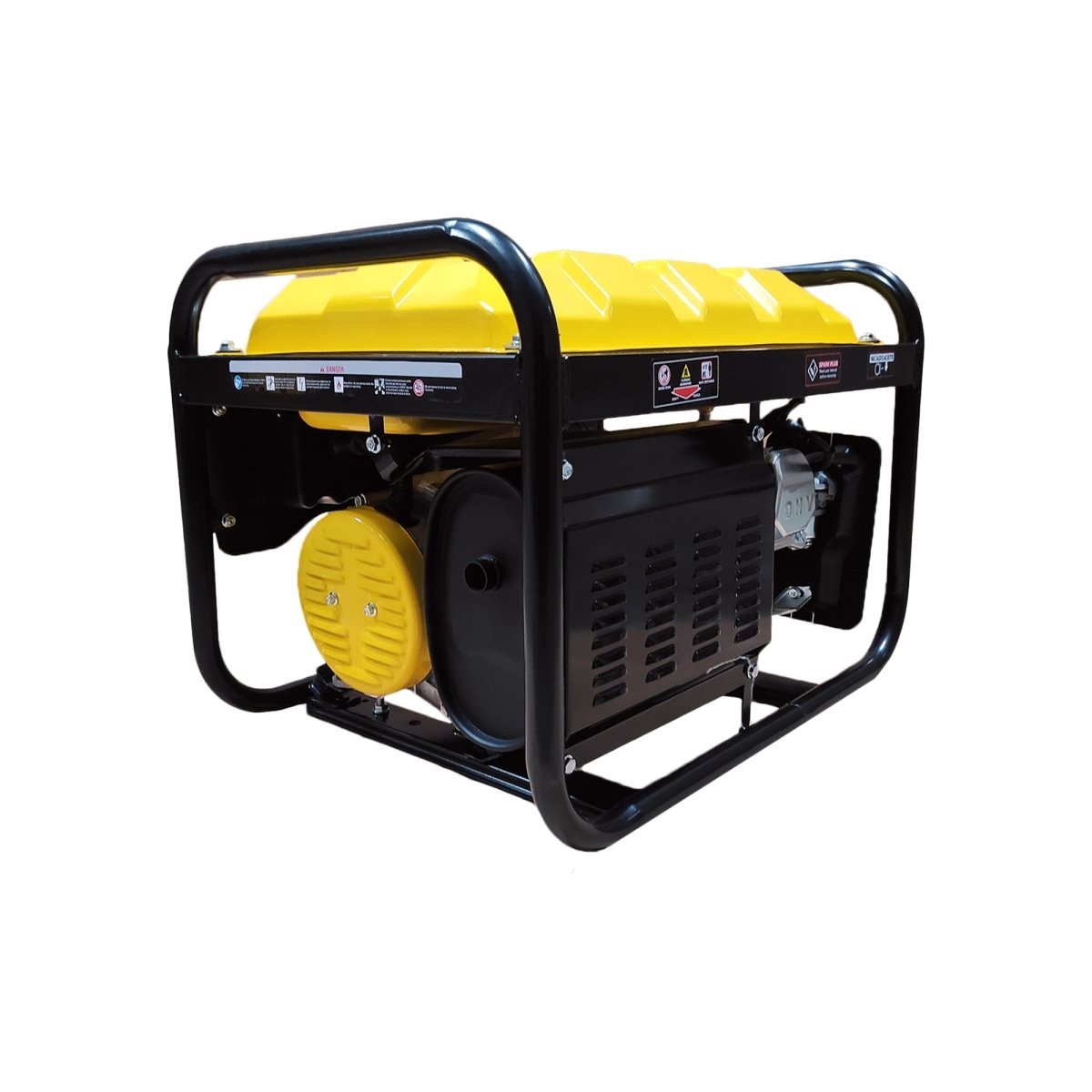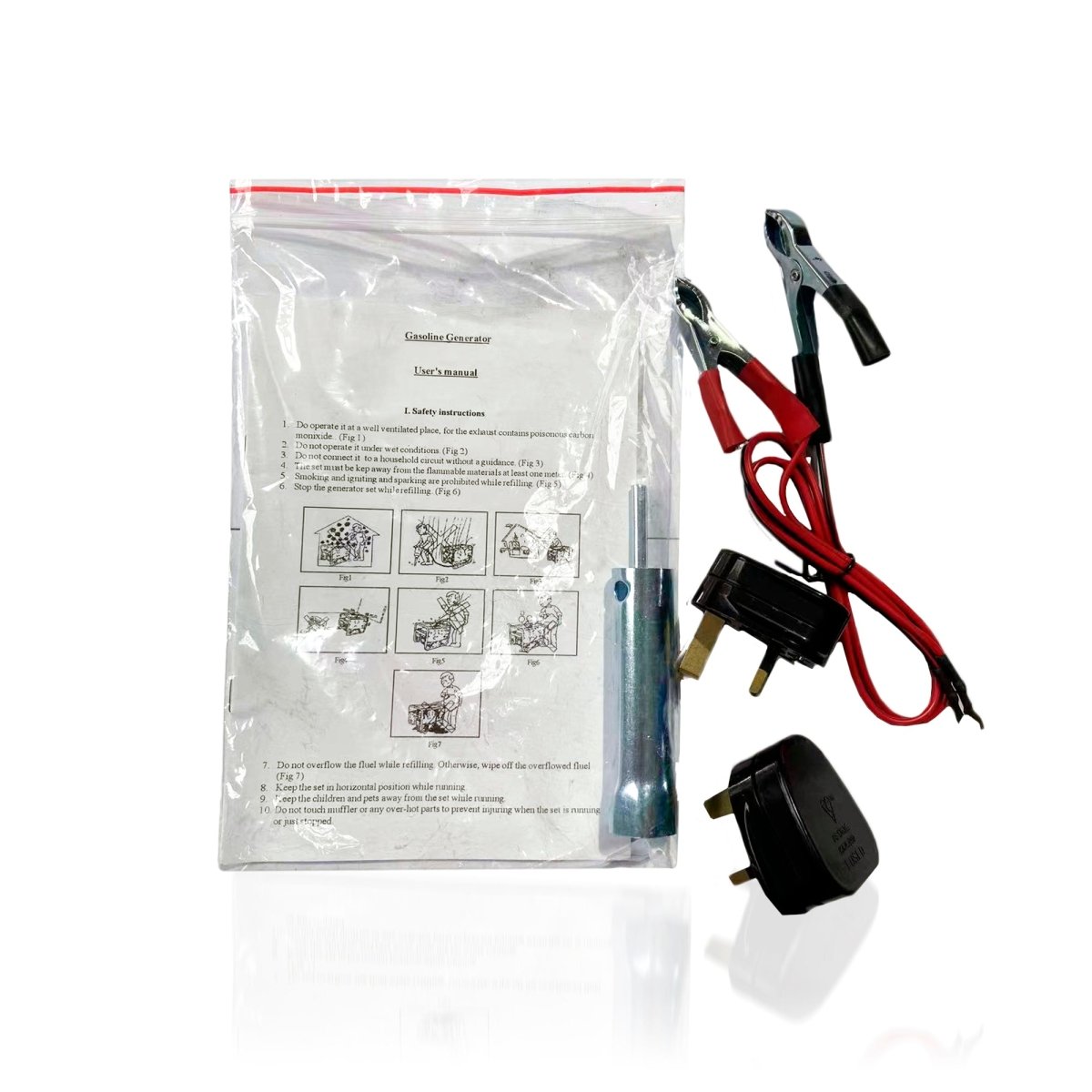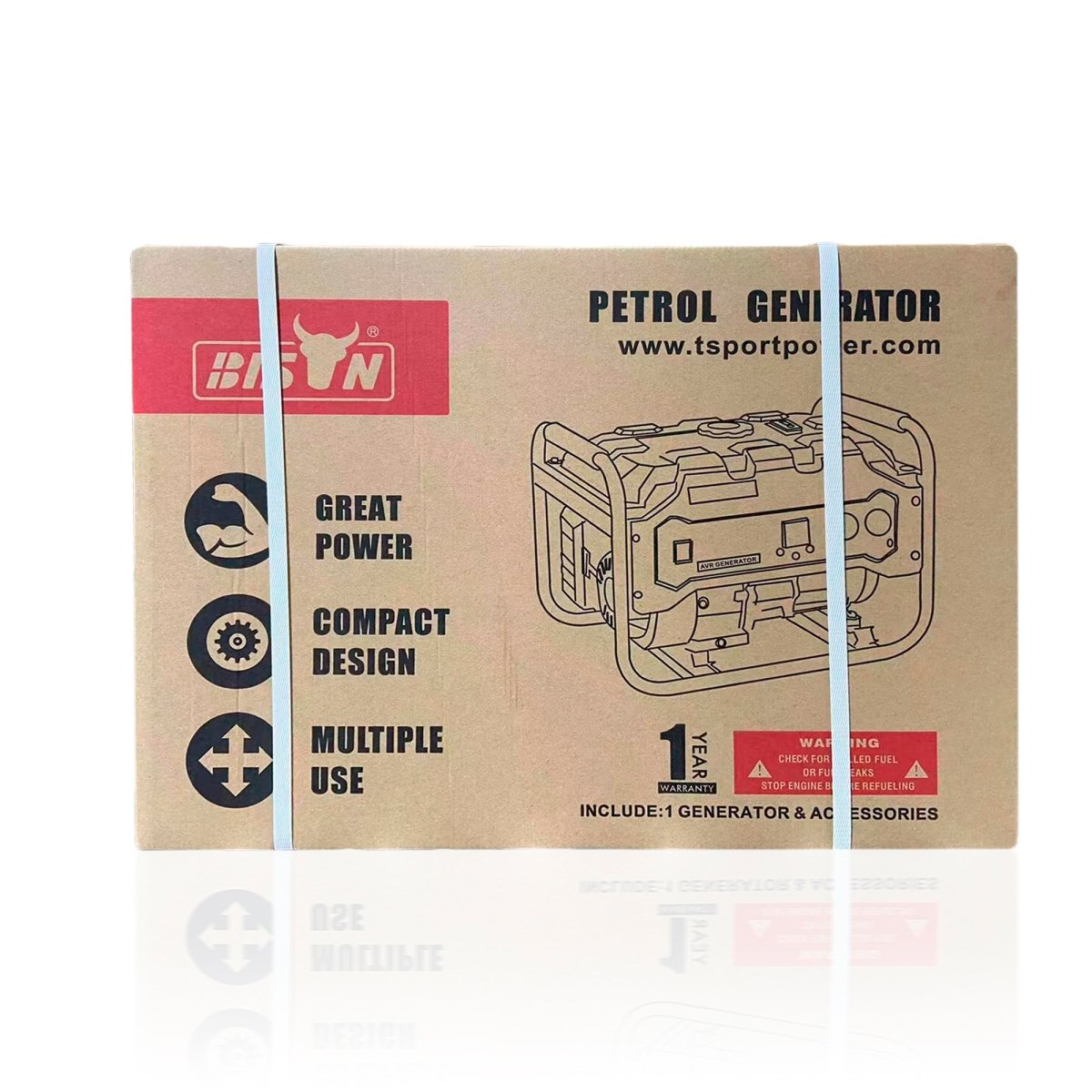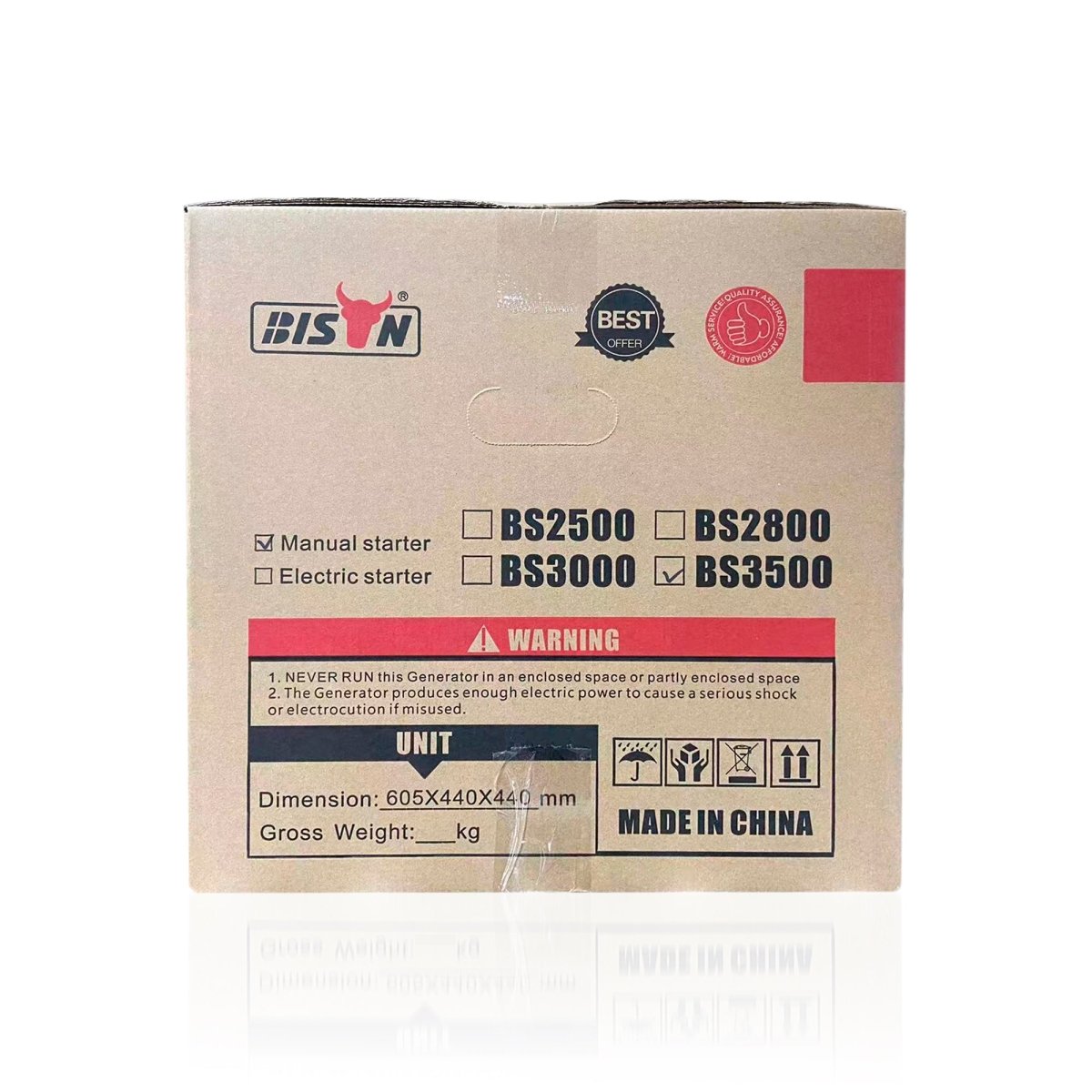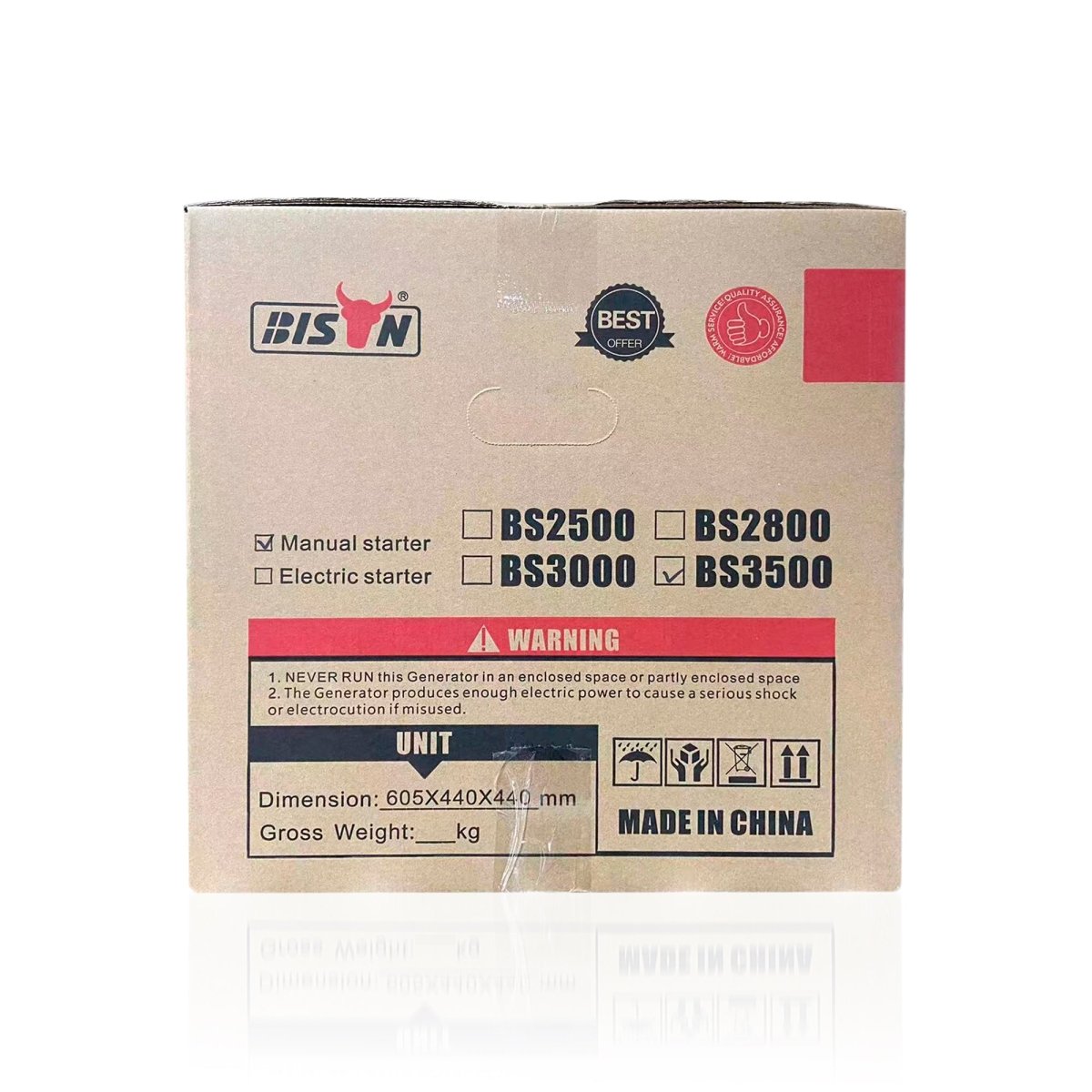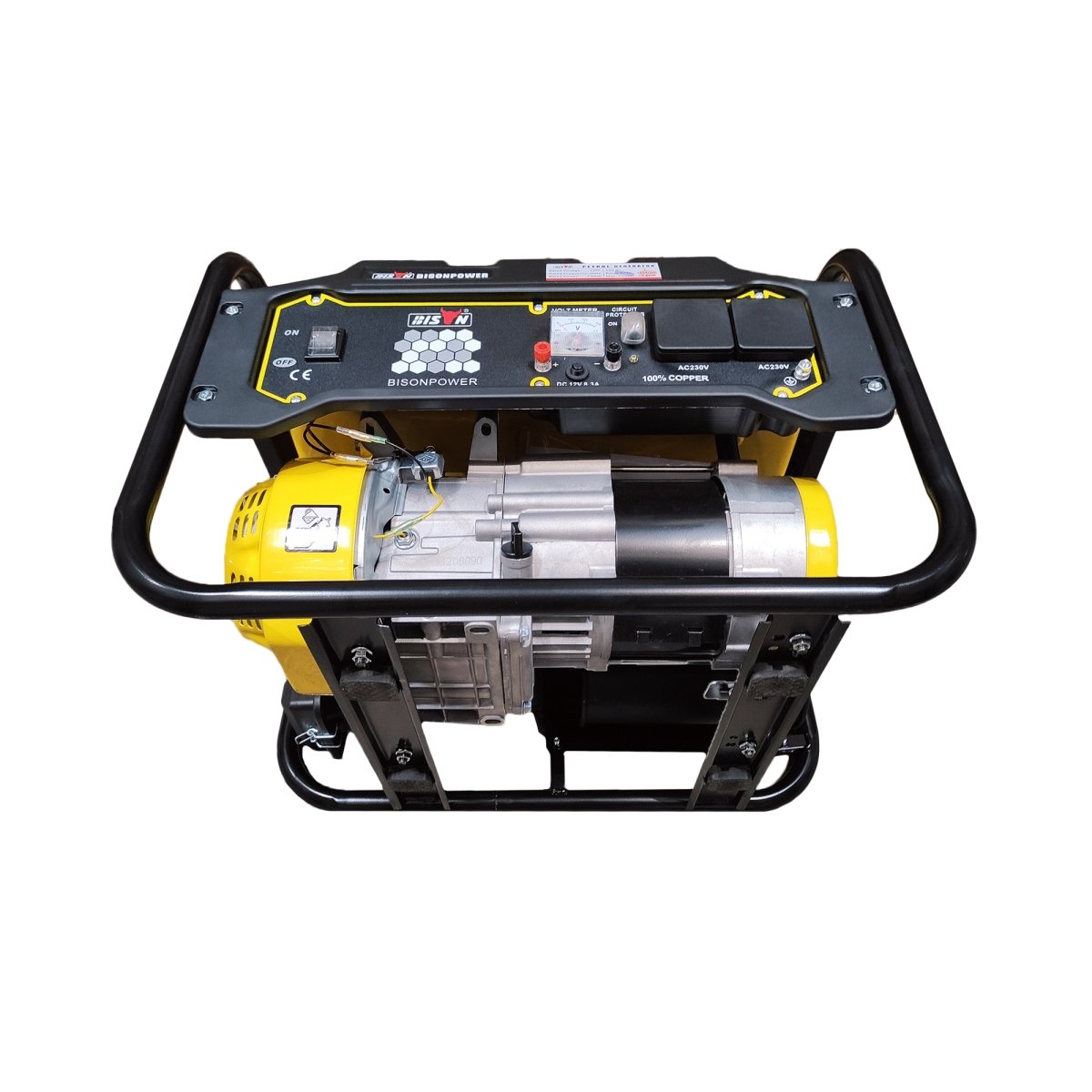 Very impressed
Ordered Sunday, arrived Tuesday morning in perfect condition. All the bits were present and correct and it was assembled and ready to run within an hr.
Runs very quietly for a big genny and powers the borehole pump with ease. The output is very smooth and there's no interference with more sensitive electronic equipment.
Fabulous piece of kit for the price... hopefully the longevity is as good.
Have a good look at this generator it's brilliant and good value very pleased with it
Had this generator for when power off it's a top generator good value the best price I've seen
Does what it needs to do!
This generator is superb value for money. Solidly built, starts on the second pull, is MUCH less noisy than a two stroke - and runs my 1050 watt electric rotavator easily. I had been worried about start up power as I kept reading on the internet that electric motors needed up to three times more power at start up than their normal running - but the sellers insisted it would be OK - and they were right. Solidly built!
Great value for money, capable generator
I purchased 2 of these with the aim to power the whole house, running in parallel.
Of note:
They produce their rated power plus a bit over.
They happily run in parallel - with 2 gens in parallel I can run a 5 bed house's basics - lights, central heating, TV etc plus one heavy load at the time be it oven, microwave, washing machine, kettle etc.
They run cleanly, I have in testing run the whole house from them for many hours now and the exhaust is clean.
The oil is worth changing very often at the start as there are many metal particles, after a few oil changes it is cleaning up.
To run my gas boiler I needed to join earth and neutral - initially to achieve this in testing I took the plug supplied and put a wire between earth and neutral (not live!!) and inserted into the generator before engine start. I joined the earth connection on the outside of the gen to an earth rod . As a permanent install I now have had an electrician wire it in to the house, the neutral earth bond is in the isolation switch. Apparently many gas boilers will not light sucessfully with floating neutral.
Finally not an approved method!! but I extended the exhaust pipe using a 1 inch diesel heater' exhaust from amazon. I removed the spark arrestor from the gen, made 4 cuts the length of the exhaust stub along the end of the new exhaust pipe using a pair of sharp scissors. I smeared on exhaust paste, slid the pipe over the generator exhaust stub, then tightened with a jubilee clip. It has allowed me to run both generators happily in the garage (seperate to house) with the exhaust pipe venting outside- not recommened for various reasons. Worth having a carbon monoxide alarm...